« go back
Add single digit numbers
Adding single digit numbers provides students with an important foundation. Practising using worksheets is a valuable part of the learning process for children as it exposes them to the most used form of reinforcement used in schools. Familiarity builds confidence. The aim of developing mental arithmetic and rapid recall of addition number facts helps students greatly in higher grades where addition involves learning processes - ie adding large numbers - number algorithms. Rapid recall allow students to focus on the process of solving the equation and helps to develop skills in working mathematically.
A mathematics curriculum based activity that teaches Adding single digit numbers -add to 20 which are part of Addition mathematics.
Add single digit numbers is an online mathematics game that helps inspire children learn, motivates them with fun and allows them to achieve higher in Addition mathematics.
Add single digit numbers
Create A FREE account To
Play Now!
This is a sample screenshot only!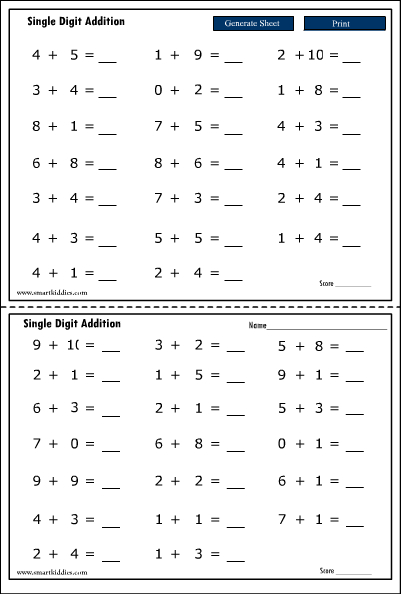 Used by over 70,000 teachers and 1,000,000+ students.
Keywords and information on Add single digit numbers mathematics activity
maths,math,mathematics,games,activities,educational,children,kids,online,free,fun,printable,learning,teaching,teacher,worksheets,primary,grade
The online mathematics activity Add single digit numbers is in the bility group Red. This activity is part of the lesson group Addition and in the focused subgroup of Adding single digit numbers -add to 20
This mathematics Addition activity is 1 of 1000's of online games, worsheets and videos available to members.